Al1701
Series





member is offline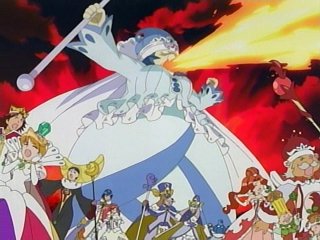 Starving Meteorologist





Joined: Dec 2010
Gender: Male


Posts: 1,855
Location: The Mitten State

MLPFiM is Bad for Girls?
« Thread Started on Dec 29, 2010, 9:30am »

---

I was checking to see if there was a new episode description when I came across this. Apparently, someone on Ms. Blog thought My Little Pony Friendship is Magic sets inappropriate examples for girls. She had rightfully been shot down by just about everyone with two brain cells. However, Lauren Faust thought she needed to post a rebuttal.

Original post
http://msmagazine.com/blog/blog/2010/12/....s-shaming-pony/

Lauren Faust's rebuttal
http://msmagazine.com/blog/blog/2010/12/....ony-a-rebuttal/

I'd like to know what show this person was watching. Clearly it's not the show we've been watching. It's like she was watching this show with her brain on automatic hate and she was just jotting down a list of things to complain about without even thinking about them. I'm glad to see her ridden out on a rail and that Faust took her to the woodshed on this.

Though, I do have one question for Hasbro. Why did you insist on Celestia being a princess? Majesty was queen of the ponies. Rose Dust was clearly stated to be queen of the Flutter Ponies. The Princess Ponies all wanted to be queen. It's been established in the franchise you have queens, so why won't you let Celestia queen it up?

---

Please check out

My Little Pony Legends

, my retelling of G1 MLP.

Current episode: Victory is Sweet

Next Episode: Battle of the Blowhards
Bright Glow
Series





member is offline







Joined: Aug 2009
Gender: Male


Posts: 1,036
Location: Dunakeszi, Hungary

Re: MLPFiM is Bad for Girls?
« Reply #1 on Dec 29, 2010, 12:04pm »

---

Well I have problem only with some MLP FiM pictures on DA like one where Rainbow Dash and Fluttershy are sexing or the one which is show Fluttershy and her bunny Angel and their spech has a high point to what did they just do in the bed.

---
Al1701
Series





member is offline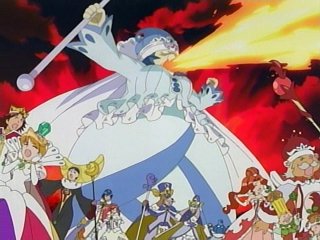 Starving Meteorologist





Joined: Dec 2010
Gender: Male


Posts: 1,855
Location: The Mitten State

Re: MLPFiM is Bad for Girls?
« Reply #2 on Dec 29, 2010, 12:13pm »

---

Yeah, but that's fans, not Lauren Faust and her staff. You can't blame a show for it's fans employing rule 34, or else nothing would be appropriate.

---

Please check out

My Little Pony Legends

, my retelling of G1 MLP.

Current episode: Victory is Sweet

Next Episode: Battle of the Blowhards
popstar
Plotbunny



member is offline









Joined: Oct 2010
Gender: Male


Posts: 35

Re: MLPFiM is Bad for Girls?
« Reply #3 on Dec 29, 2010, 1:00pm »

---

Ah rule 34 the downfall of fandoms.

I personally think the person that wrote this article either has a problem with ponies in general, Hasbro, Lauren Faust, or just couldn't find anything to do so they complained about the first thing that came along.
Bright Glow
Series





member is offline







Joined: Aug 2009
Gender: Male


Posts: 1,036
Location: Dunakeszi, Hungary

Re: MLPFiM is Bad for Girls?
« Reply #4 on Dec 29, 2010, 1:16pm »

---

It's the easiest thing to eplain bad things into a cartoon,

---
ladymoondancer
Administrator


member is offline




watching from above





Joined: Jul 2009
Gender: Female


Posts: 539

Re: MLPFiM is Bad for Girls?
« Reply #5 on Dec 29, 2010, 1:19pm »

---

Yeah, there's Rule 34 art of everything. I'm sure if I looked around I'd find sex art of Big Bird. (I'm not gonna look, I'm afraid I'd be scarred for life! )

IMO the person who wrote the article sounds like an overeager college student, the one who takes one course in a subject and decides that makes them an expert on everything pertaining to that subject.

There's an old saying, "When you have a hammer, every problem looks like a nail." Well, this blogger got a toolkit that contained words like "homophobic" and "sexist imagery" and "heteronormative" and so on. And those words are very useful in illuminating problems, when used correctly. But this blogger is using them as a hammer when the situation calls for a tape measure. She is tossing her newfound vocabulary at every situation she comes to in life and seeing problems even where none exist.

The "heteronormative" accusation is the most amusing because, aside from MLP Tales, NONE of the shows have been the tiniest bit heteronormative. (Heteronormative means showing heterosexual relationships as the expected norm and deleting or marginalizing other types of relationships, such as homosexual ones.) My Little Pony is not heteronormative! My Little Pony shows contain NEXT TO NO BOYS. (And sometimes literally no boys, like G3!) There are no established male-female couples! And the single times the G1 boys appeared (in Somnabula), they run around together all year and greatly resemble The Village People. I'm just saying.

Interestingly, even parenting relationships are totally different in G1 than what you would normally find in cartoons. The babies were taken care of communally, slept in their own building separate from the adults, and were very seldom seen with their parents. (I think "Bright Lights" was one of the few times I saw the mothers concerned about their specific babies. Baby Lickety-Split's mother doesn't appear in the movie at all, despite her being the star and constantly imperiled!)
Al1701
Series





member is offline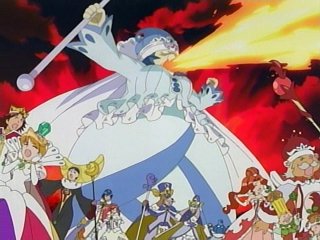 Starving Meteorologist





Joined: Dec 2010
Gender: Male


Posts: 1,855
Location: The Mitten State

Re: MLPFiM is Bad for Girls?
« Reply #6 on Dec 29, 2010, 2:40pm »

---

Don't forget the Ponies used rainbows both to defend themselves and reach the Human World.

What's funny is she's applying the human sense of what is heteronormative to a non-human group of species. The two things ladymoondancer mentioned (segregation by gender and communal childcare) are normal behavior in many species and even in some human societies. Are you saying real life is unsuitable for children? We're just S.O.L. then.

---

Please check out

My Little Pony Legends

, my retelling of G1 MLP.

Current episode: Victory is Sweet

Next Episode: Battle of the Blowhards
sunstar
Administrator


member is offline




You never expect your Prime to get sick with something that does not have a cure.





Joined: Aug 2009
Gender: Female


Posts: 2,981
Location: somewhere on the net

Re: MLPFiM is Bad for Girls?
« Reply #7 on Dec 29, 2010, 3:40pm »

---

There is a neat thing called Genderbending. I used it a lot with my ponies that I can't think of sopme of them as females anymore. Glory, Minty, Speedy, Moonstone, Firebolt, Sweet Thooth, and Skydancer are my boys pernamently.

I had to laugh at the article. the writer clearly had no clue what her words meant, or how to use them properly. The soldiers are gray, not black. Midnight Moon is the only black pony we have seen. I like how each pony has her own personality and we see boy ponies more then we did during the G1 times. The show is still fun to watch.

---

"This is it then, all hope is lost." Prowl looked away from the screens as Quintession warships strafed Iacon.
"That's it? you are giving up?" Altima asked.
"There is nothing we can do, Princess. Optimus is no longer with us, and Rodimus is dying from the same thing that took Optimus from us. Without the Matrix, we might as well surrender." Ultra looked pained.

Exert from TF: Rise